A GOURMET JOURNEY OF THE SENSES
In the delightful setting of the exclusive five star hotel "Villa Cordevigo Wine Relais" in Cavaion Veronese, the Oseleta Restaurant conquered its sought-after Michelin star back in 2013. The diner is invited to take part in a journey of the senses through chef Marco Marras' culinary workshop.
Just a few miles from Verona, the restaurant offers an exclusive country-chic atmosphere in the south wing of the 18th century villa overlooking the relaxing bucolic landscape of magnificent estate vineyards.
This is an appealing corner of a country residence in the heart of Bardolino where the agricultural vocation of the land is celebrated in the perfectly balanced art of fine cuisine that is at once both traditional and innovative.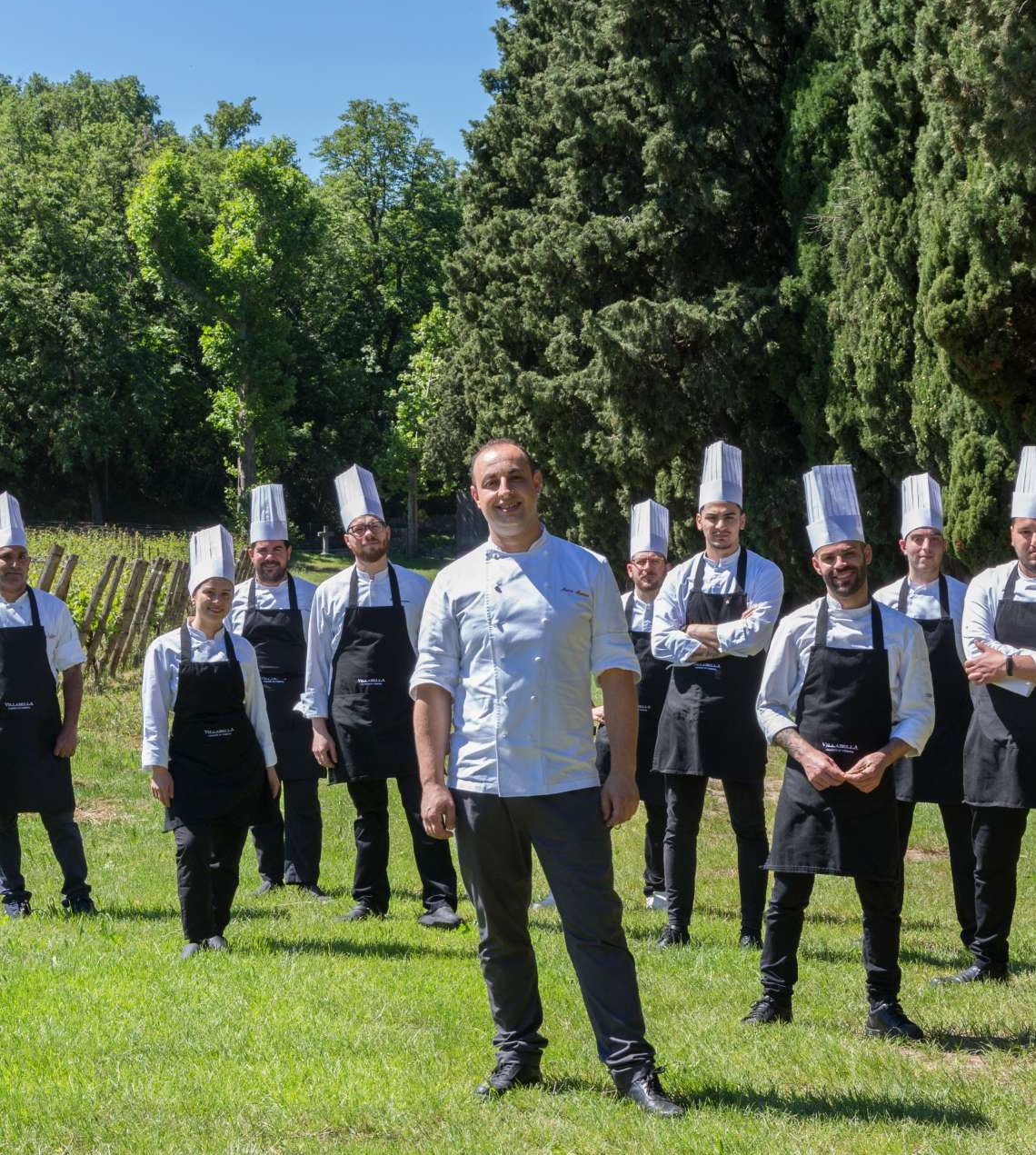 CULINARY MUSICAL SCORES SIDE BY SIDE
The scents of Sardinia meet Veneto's traditions in dishes created by chef Marco Marras, firmly at the helm of the Ristorante Oseleta's kitchens.
A sophistcated fusion of flavours born of this young Michelin starred chef's determined quest for synergy and contrast. He is unfailingly guided by the seasons, territory and the excellence of the raw materials he uses in his kitchen.
Marco Marras is from the seaside town of Bosa in Sardinia and before becoming executive chef at the Oseleta he gained invaluable professional experience in award-winning kitchens in Geneva, Miami and Hawaii.
"My love for cooking", explains Marras, "came from watching my grandmother while she prepared the large family lunches when I was a boy. It was from her that I learnt how to create harmonious mixes of the scents and flavours of our land.
The scents and flavours of Sardinia are still present in my recipes, at times they are little more than a whisper, at others they are more explicit, a kind of culinary musical score in which the dialogue with other forms of language is the driving force behind continuous challenge and innovation."
Opening Times
---
The restaurant observes the following hours:
Monday / Wednesday / Thursday / Friday
7.30 – 9.30 p.m (last orders)
Saturday
12.30 – 1.30 p.m (last orders)
7.30 – 9.30 p.m (last orders)
Sunday
12.30 – 1.30 p.m (last orders)
7.30 – 9.30 p.m (last orders)
The restaurant is closed annually for staff holidays in the winter months between January and March.